Where will You Spend Your Eternity?
Is there an Eternity? Is there an afterlife? Do I really have a choice. What happens to me if I get this wrong? And If I do will there be hell to paid?
We want you to listen to the words of this song below. The point of this song is well taken and is very important to listen and understand! Bless our caribbean brother and sister that sung this song. Now take a closer look at the picture. The bible says in Matthews 7:13-14 that there are two path of life. One leads to eternal life in Heaven and the other leads to eternal destruction in Hell.
Do you perfer Up or Down? Smoking or Non-smoking reservations? IT'S YOUR CHOICE!
Click on the audio play button below
What About Your Eternity? Does it include a call for Salvation and life with Christ?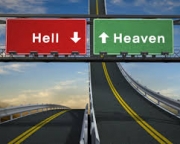 If you Answer Yes to the Call of Salvation – Click Below
Do You Need More Time? Something to Think About Before it's too Late!
Let Today be Your Day of Salvation